Remodeling and Addition Project Maquoketa Valley Schools will be accepting bids for their projected $4-million dollar renovation and addition project at our high school facility until March 21st.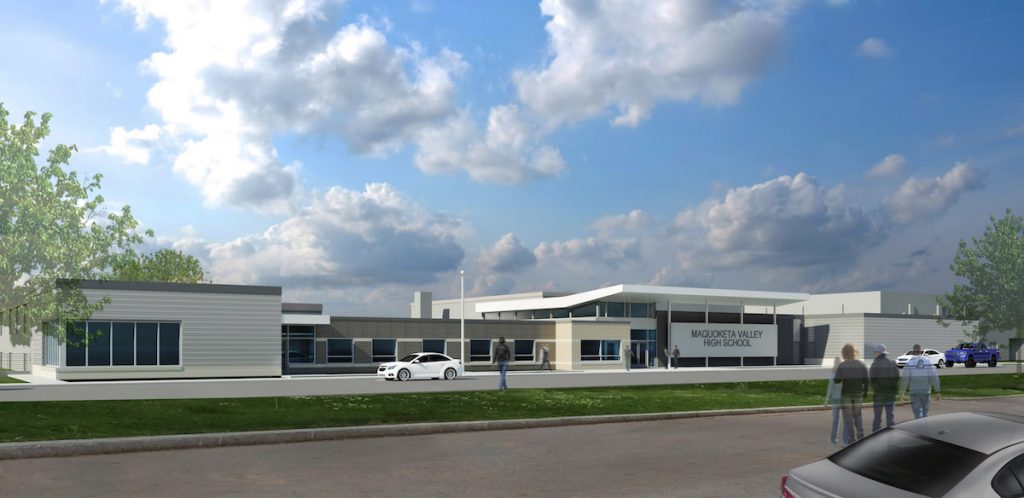 The project includes rearranging and remodeling public restrooms, adding windows to the commons and entryway, remodeling the high school locker rooms, remodeling the office and guidance office areas, adding a public fitness room, adding a weight room facility, adding on to the instrumental room, moving the concession stand from the west side of the HS commons to the south end of the commons, and adding a new set building and storage room for the auditorium.  Future updates include the science classrooms, the family and consumer science classrooms, new roofs for the HS shop area and the Earlville gym, new boilers at Earlville, new bleachers for the HS gymnasium and also a new floor for the High School and Earlville gyms.
Due to the diligence of your School Board, the District was able to pay off the existing G.O. bonds for our Delhi Elementary, Middle School and Earlville Elementary facilities and all of the revenue generated for this remodel and addition project will come from the District's SAVE funds (The State of Iowa 1 cent sales tax).  Even with the proposed new remodel and additions, district property owners will actually see a decrease in the property taxes for next fiscal year.  
The project is expected to begin sometime in April with a completion date in October of this year.  If anyone has any questions about the project please do not hesitate to contact Mr. Tuetken at 563-922-2091.