Remodeling and Addition Update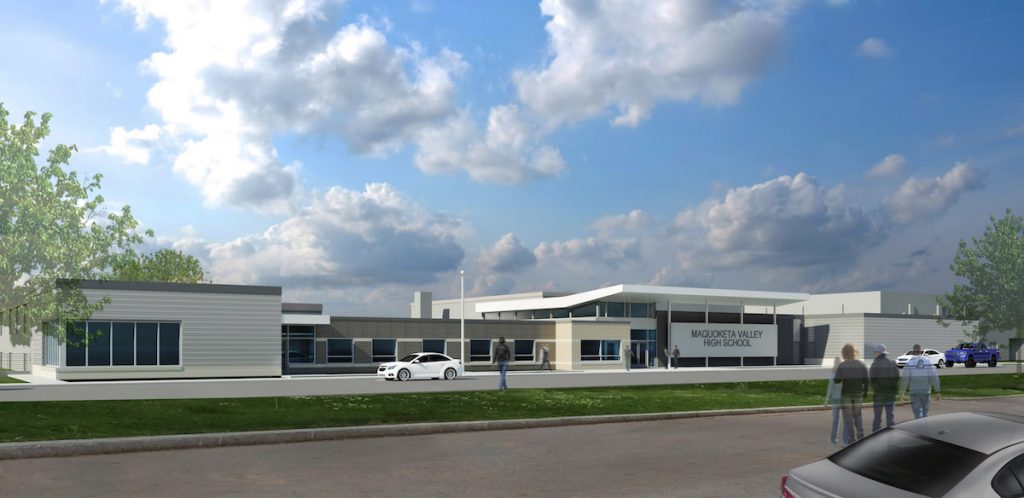 On Monday March 27th our Board of Education Directors approved the low bid from Tricon Construction for the High School remodel and addition project.  The base bid from Tricon includes a new elevator, a set-building room, a locker room remodel, a weight and fitness room addition, restroom and offices remodel, concession stand relocation and remodel, entrance remodel and clerestory, kitchen hood, lights and air handling, instrumental and green room remodel, ventilators and thermostats at the HS, cement work and/or sidewalk replacement and some site work to the north side of the HS building.  The Board also accepted alternative bid 2 and 3, which includes exterior signage and updates to the casework for the auditorium sound and light booth.  We are hoping that this phase of the work will be completed by the end of October.
As a part of the project over the next 16 months we will be replacing the gym floor and bleachers at the HS, updating the science and consumer science classrooms, installing carpet, completing some painting, working on roofs throughout the district, fixing boilers and replacing the gym floor at Earlville.  Along with these projects we will continue to provide appropriate technology for our kids as well as purchase buses and have the needed dollars to maintain our facilities.
Due to our School Board's diligence, all of this is being done through SAVE revenue (the State of Iowa's 1-cent sales tax) so there WILL NOT be an increase in our district levy rate.  Actually the district will see a significant decrease in our levy rate for next school year.  We are truly excited about these projects, especially since all of this work is being completed with no increase in our tax rates. 
If you have any questions regarding the project, please do not hesitate to contact Doug Tuetken at 563-922-2091.